Kingfisher Metalbird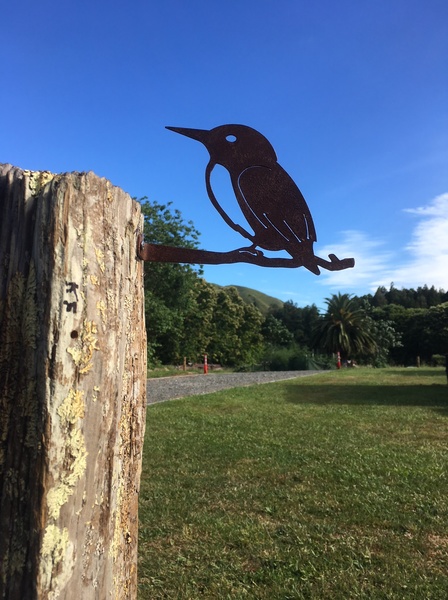 RUSTICMETALART PRESENTS:

"THE NATIVE BIRD STEEL SILHOUETTE SERIES"
THE KINGFISHER
"Kotare"


Material: Made of 2.5mm thick corten steel and all 100% Kiwi made in the mancave.

Dimensions 200mm x 150mm
Designed to RUST but not degrade.
It may even be a bit rusty when it arrives...dependent on when it was created.

Pop it on your pergola, wooden post, tree, or fence.

1 x Kingfisher steel silhouette metalbird
2 x nails (you provide the hammer)
for mounting to any wooden surface, gate, post,pergola, tree
The distinctive hunched silhouette on power-lines over water, and direct flight between perch and food and return to perch are characteristic. Flight swift and direct with rapid shallow wing beats interspersed with fast glides.

Kingfishers have a wide range of unmusical calls, the most distinctive of which is the staccato 'kek-kek-kek' territorial call.

The distinctive green-blue back and cap along with heavy black bill distinguishes it from other species.