Tardis keys Holder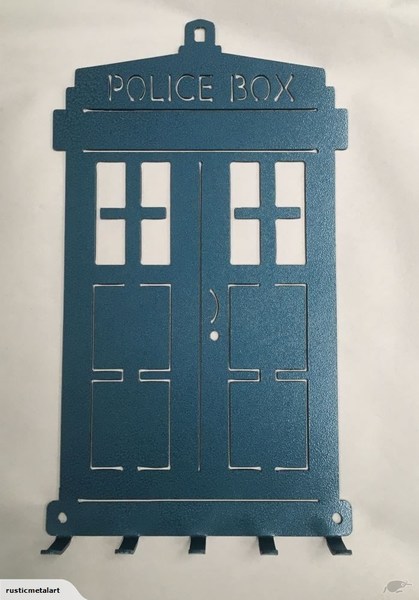 Tardis key holder .

Designed for the Dr Who Freak or just that retro moment for us old folks

Mounts to the wall with some double sided tape (not included) or use the 2 provided screw holes.

IF YOU DON'T PUT YOUR KEYS ON THE TARDIS KEY RACK, THEY WILL BE LOST IN THE SPACE TIME VOID FOREVER!

Material 1.6mm thick NZ Steel
Primed and painted Rustoleum Blue.

Dimensions approx 300mm x 150mm

Functions just like the explanation below and comes with keys to a free 1989 Toyota car.... really? NO!
A TARDIS is a product of the advanced technology of the Time Lords, an extraterrestrial civilisation to which the programme's central character, the Doctor, belongs.
A properly maintained and piloted TARDIS can transport its occupants to any point in time and space. The interior of a TARDIS is much larger than its exterior. It can blend in with its surroundings using the ship's "chameleon circuit".